Thanks to its central position, its main ferry links and bus connections, Menaggio is well connected with public transport.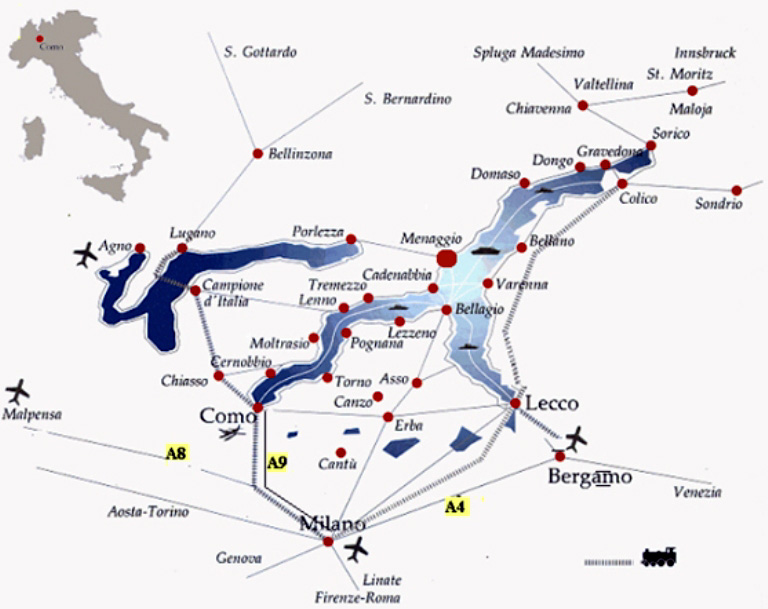 By Bus
The public bus service is managed by the ASF bus company. All buses stop and depart from Piazza Roma where there is the bus depot. Bus tickets must be bought before boarding the bus either at the bus depot in Piazza Roma (there is also a ticket machine) or at the newsagent's in Via Calvi.

The C10 bus line of the ASF bus company connects Menaggio with all the towns on the west side of the lake.
From Menaggio departs the C12 bus line to Porlezza on lake Lugano and to the town Lugano in Switzerland, just 27 km from Menaggio.
The C13 bus line connects Menaggio with Plesio and Breglia, a great starting point for mountain hikes.

At the bus depot you can buy a day ticket for 10 euro that allows you to travel all day on the extra-urban bus lines excluding the stretch Oria – Lugano.
There is also a day ticket for the stretch between Menaggio and Argegno at a cost of 6 euro.
ASF AUTOLINEE – bus times
The winter bus time table is valid from 13 September 2020 until 8 June 2022
Timetables
C10 bus line
Winter timetable (13 Sept 2021 – 8 June 2022)

C12 bus line
Winter timetable (13 Sept – 8 June 2022)

C13 bus line
Winter timetable (13 Sept – 8 June 2022)


PALM EXPRESS
The Swiss post bus that connects Lugano with St Moritz also stops at Menaggio. Bus stop is in Via Mazzini – compulsory reservation. Off season the bus only runs on Saturday Sunday and Monday (once a day)
For more information see www.autopostale.ch
---
By Boat
From Menaggio the historic boats leave for a pleasant cruise over the lake to the famous towns of the lake. There is also a car ferry service that connects Menaggio with Varenna and Bellagio. Who wants to move quickly can use the hydrofoils that stop at the main towns around the lake. We recommend the day tickets that allow you to use boats as well as the ferries and visit more than one town with the same ticket. You may travel on the hydrofoils with this type of ticket but this implies paying a supplement. The central lake ticket for example includes Menaggio, Varenna, Bellagio, Cadenabbia, Tremezzo and Lenno. You can buy tickets at the Navigazioni Lago di Como ticket offices at the local boat landings.
Navigazione Laghi – Boat times
---
By Train
Menaggio is not connected to the railway line – the closest station is at Varenna that is situated on the other side of the lake exactly opposite from Menaggio. For times see Ferrovie Trenord. At Como there is the FS station San Giovanni or the Como Lago Nord station.
Ferrovie dello Stato – Train times
Ferrovie Trenord – Train times
---
Taxi Service
Public Taxi in Menaggio
Mario – tel. +39 338 2047279 – taxiservicemario@hotmail.it
Andrea Frascaro – tel. +39 334 5267507 andreafrascaro2@gmail.com
Andrea Zecchina – tel. +39 351 7512507 andreazecchina@libero.it
Private Taxi Service
Diego Reina – tel. +39. 333 8601035 – askdixcab@gmail.com
Carlo Erba – tel. + 39 339 3136825 – minibus and car rental with driver- cap.autoservizi@hotmail.it

---
Boat Taxi Service
Menaggio Water Taxi
Taxi service and guided tours
Via Mazzini – tel. +39 333 6520699 – +39 339 8491411
menaggiowatertaxi.com
---
For Boat Rental Services please read here.